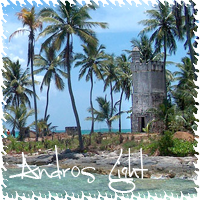 In the early 1950's Swedish financier Axel Wenner-Gren who was responsible for laying the groundwork for Electrolux's global success in vacuum cleaners and refrigerators during the intense 10 years following World War I and also responsible for the development of Disneyland's original monorail system, secured over 100,000 acres in central Andros, with plans to develop a playground for the very rich. This venture came on the heels of his success in the purchasing of Hog Island, which is now known as Paradise Island.
Central to his vision was the "old" Lighthouse Club, built on the site of the current "new" Lighthouse Club and Marina in Fresh Creek. This was considered the premier hotel of the Caribbean and catered to the jet setters from Europe and America. The famous "Rat Pack, Danny Kaye, Ester Williams and US Defense Secretary Neil McElroy were among the many elite visitors to the "old" Lighthouse Club.
Against this backdrop, Coakley House was built. The house was commissioned by European entrepreneur William Sigrist as a wedding gift to his daughter Bobo. The anticipated event of Bobo's marriage, like the promised development of Andros, both were premature as neither came to fruition.
Coakley House was eventually sold to the Prodgers family, cattle barons who managed the Rockerfeller cattle farms in South America. The Prodgers enjoyed Coakley House for many years as their vacation home before selling it to the British Government who used Coakley House as a private residence for the Commander of the Royal Navy and home to many formal receptions attended by Her Royal Majesty, Queen Elizabeth.
In 1992 the British government sold Coakley House to Small Hope Bay. For the next 12 years Coakley House served as a supplemental rental home for guests of Small Hope Bay Lodge.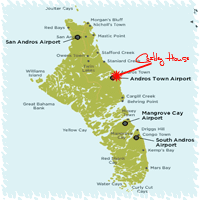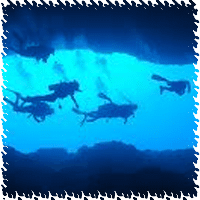 In 2003, the home was sold to Coakley House Holdings. Over the course of 25 years these lifelong fishing buddies fished the waters surrounding Andros, the Fresh Creek area in particular and had always said to each other upon entering Fresh Creek, "wouldn't you love to own that house." As fate would have it they were informed the Coakley House was for sale and without hesitation decided to purchase the house. Needless to say wishes do come true.